Panic button -

Anti-aggression device

EMERIT© WATCH e-WG100 : AGGRESSION MODE
The Emerit Watch e-WG100 is ideal for professionals who are exposed to assaults (verbal, mental or physical violence). It is a dedicated and autonomous device that allows to alert, geolocate and communicate with response personnel.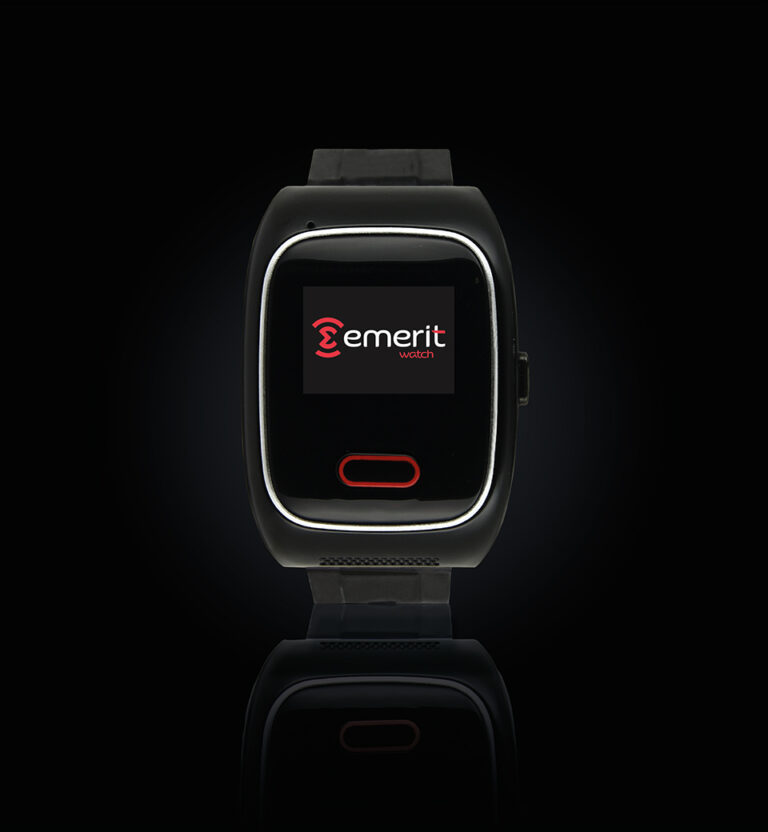 The Emerit© watch can quickly prevent an
escalation of the workplace violence
Emerit alert solution
Native
WIFI Network
2.4 GHz | Voice Over IP
Outdoor and indoor location
GPS | WIFI | Bluetooth
Emerit alert solution
Native
WIFI network
2.4GHz | Voice Over IP
Outdoor and indoor location
GPS | WIFI | Bluetooth
Microphone & speaker
For two-ways communication
IP65 Protection
CE Standard
Easy charging
By magnetism
Sim card slot
For GSM communication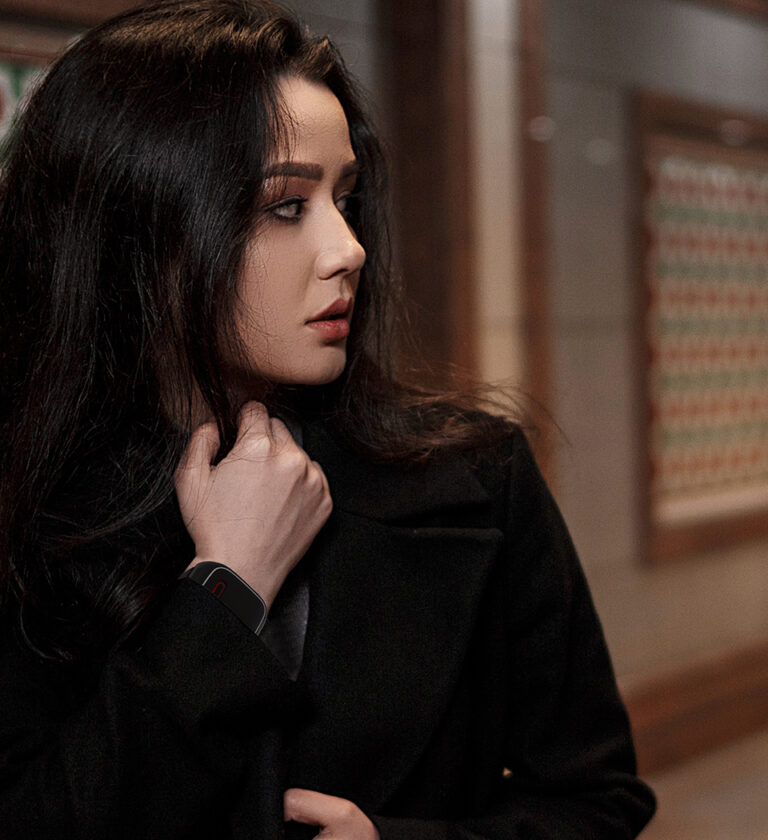 Trigger an alarm

in case of aggression
By simply pressing the SOS button, the device will send alarms by cascading calls and SMS to predefined contacts or to an alarm receiving centre.
The display remains off and the recipient of the alarm can listen to the surroundings of the watch through the microphone.
Emergency services can respond quickly thanks to the victim's geolocation.
The aggression

configuration in details
Discreet, ergonomic and quickly accessible, the personal alarm device prevents an escalation of violence and allows a quick alert in case of aggression thanks to its 100% hands-free SOS button.
In order to deal with this type of risk, a very special anti-aggression configuration is possible, with the following specific features:
The activation of the alarm phase is confirmed by a vibration. This alarm is directly transmitted to the pre-configured recipients by call and/or SMS and/or IP data transmission, without a pre-alarm phase.
The watch then switches to a discreet post-alarm notification, without display and without sound location, but with a vibration every 5 seconds. During this post alarm notification, the screen remains black, the watch automatically picks up incoming calls and mutes the speaker: only the caller can listen to the environment around the watch.
To end the post alarm notification, briefly press the power button twice to display the post alarm notification, then briefly press the SOS button.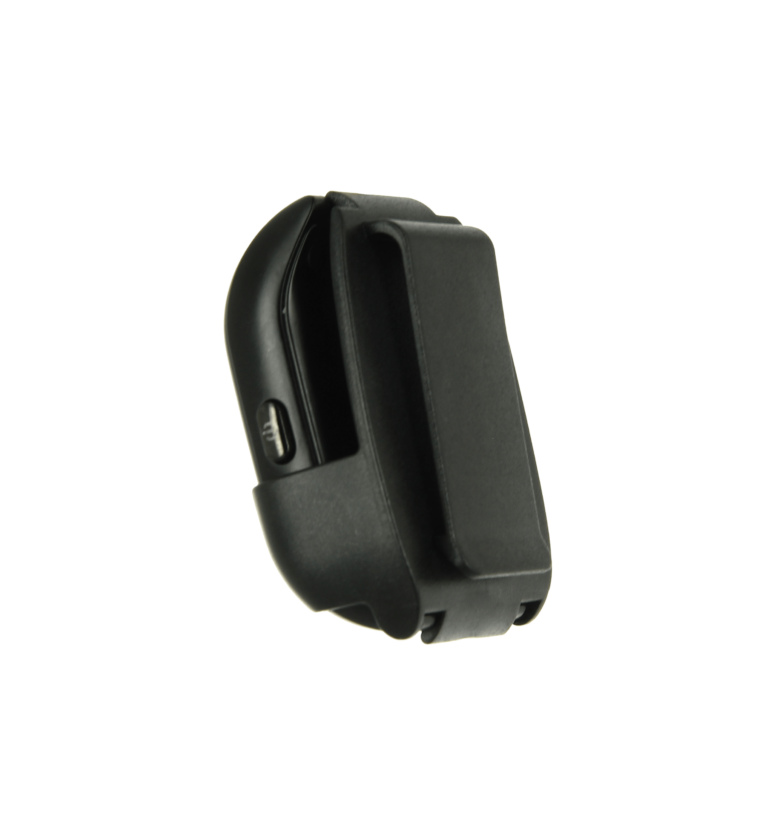 Belt clip

for discreet use
At the request of some of our customers, we have developed a more discreet alternative to our classic belt clip: a variant adapted to the risks of aggression.
Depending on the client and his/her profession, the anti-aggression device can be worn on the wrist or on the belt by removing the bracelets.
The assault alarm watch is intended
for professionals exposed to situations of violence in the workplace
Assaults on professionals affect many sectors of activity, especially those who work in the public space or who receive clients on their premises. These workers represent a huge part of the global labor force. 68% of workers across the world do not feel safe at work and 50% already experienced worplace violence incident once.
Both employer and employees have interest in reducing violence at work, according to hse.gov.uk.
Hotels, banks, jewellery, shops and other stores
Hotels, banks, jewellery shops and other small businesses are very often affected by attacks, which often start with verbal abuse or hostile behaviour. At the first signs of violence, it is important to send an alarm discreetly while trying to calm the situation, while waiting for help to arrive.
According to a recent Survey by labor union UNITE HERE, "60% of hotel housekeepers have experienced sexual harassment. Front desk personnel and maintenance staff also are vulnerable to harassment and violence".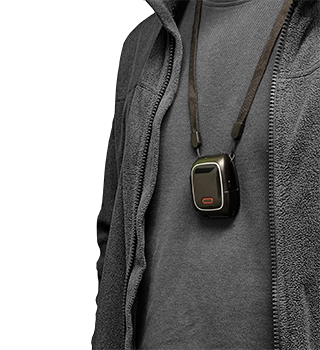 Transport sector drivers, delivery staff
Drivers and delivery staff are often working alone and at night. Class's study (Centre for Labour and Social Studies) found that "82% of app-based couriers have experienced violence at work". Driving examiners for example are getting are facing abuse. Their decision will have a big impact on the life of the learner. "In 2015 there were 180 reported incidents of examiner abuse at the DVSA, the Driver and Vehicle Standards Agency. By 2016 this had risen to 240" according to Evening Standard.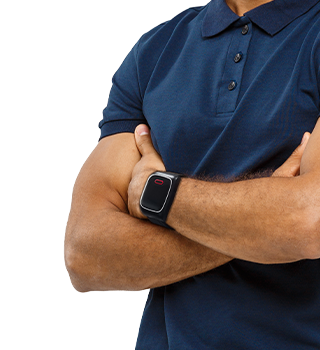 Schools, education sector
According to the national education union, 0.9% of teaching and education professionals in the UK are victims, once or more, of a Workplace violence incident. This figure is 0.7% for all professionnal occupations.
Moreover, this sector is at risk of attacks or shootings. School is the place where different forms of violence are reflected, with factors such as "social inequality or family situation" (Farrington, 2001).
If the fight against violence in schools is based on prevention actions, technology can reassure and secure staff exposed to risky situations.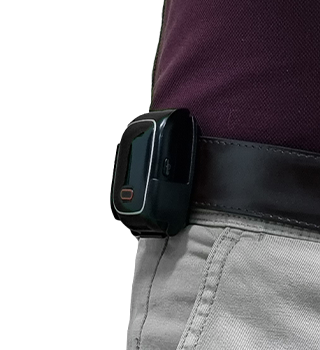 Healthcare & social assistance
The health care and social assistance sector is, together with the education sector, the sector most affected by workplace violence (Report: Workplace Violence & Harassment, a European Picture).
The healthcare and social asssistance industries have an 8.2% Workplace violence incident rate.
In the U.K last year, nearly 15% of National Health Service (NHS) had physical violence from patients, relatives, or public.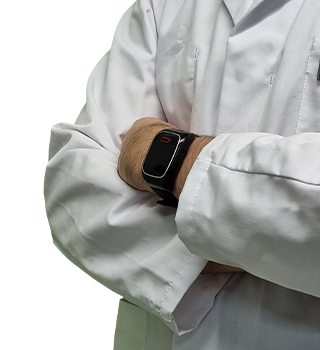 Public service employees are regularly confronted with aggression and incivility, the extent of which is often unknown due to a lack of data.
The risk of aggression is a reality in the professional sphere and the vast majority of public sector personnel may be confronted with it at some point in their career. It is important for public administration employers to take into account the risk of aggression in a prevention and safety at work approach.
This is particularly the case in the "Justice" (76%) and "Social action" (67%) job families. By the nature of their jobs, public officials often have to calm people down (72%) or deal with people in distress (67%). The families most at risk are "Care", "Social action", "Justice" and "Security and defence". Hospital civil servants, women and category C workers are also more likely to have emotionally demanding work. Officers from these families are also more often victims of verbal aggression from the public.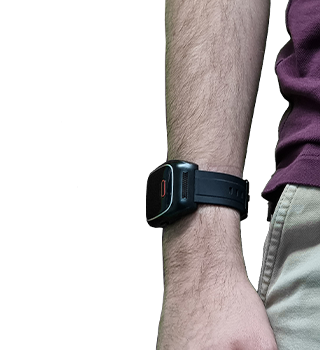 More than an anti-aggression

device, it also detects falls or fainting
The risks of aggression are not the only risks faced by workers. The Emerit Watch e-WG100 is also capable of automatically detecting prolonged immobility and/or prolonged tilt.
You can find everything you need on our support page.